Gloria Palace Amadores Thalasso & Hotel reopens renovated after pandemic closure
Gloria Palace Amadores Thalasso & Hotel reopened its doors this Friday, 25th June, after 15 months closed due to the pandemic, a situation that the Gloria Thalasso & Hotels chain took advantage of to remodel and refurbish its four establishments. In the case of this hotel located in Playa de Amadores, the highlights were the expansion of accessibility, the creation of a children's water park and the transformation of its two swimming pools into infinity pools.
The director of the Gloria Palace Amadores Thalasso & Hotel, Alberto Freniche, today welcomed its first guests, who will enjoy modern and safe facilities adapted to modern times.
Among the novelties presented by the hotel is the expansion of the leisure offer for children with the creation of a 'Splash Park', where they can enjoy a water park next to the children's pool. These slides are joined by a completely renovated open-air Mini-Club.
An "adults only" area has also been created with a total of 15 rooms with a private swimming pool "where tranquillity and privacy are assured".
Another of the great novelties of the refurbishment is the transformation of the swimming pools into infinity pools, in which the optical effect of having no limit with respect to the sea is produced. In addition, the solariums that accompany them have been completely renovated, increasing the quality of the wellness experience of this hotel, which has one of the most complete thalasso centres in Europe.
Improving accessibility and comfort for the elderly or those with mobility problems is another of Gloria Thalasso & Hotels' commitments. To this end, the bathrooms of the 392 rooms of the establishment have been completely refurbished, replacing all the bathtubs with shower trays.
"We are very excited and hope that all this will be perceived by the client and that it will be a great attraction to travel to Gran Canaria and specifically to Amadores", said Mañaricúa.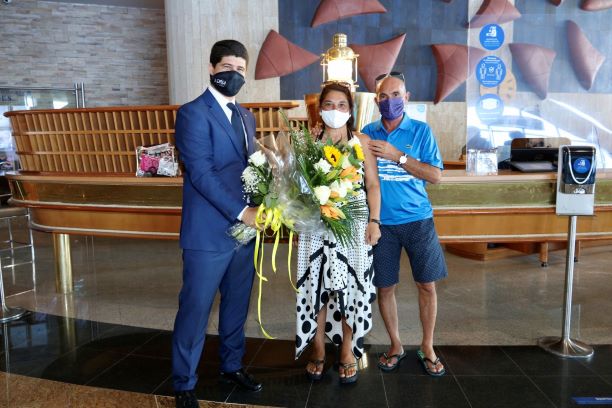 Categories: ¡Te interesa!, blog, Novedades
« Gloria Palace Royal Hotel & Spa receives "Loved by Guests" 2021 award from Hotels.com
We officially present the integral reform of Thalasso Gloria San Agustín! »